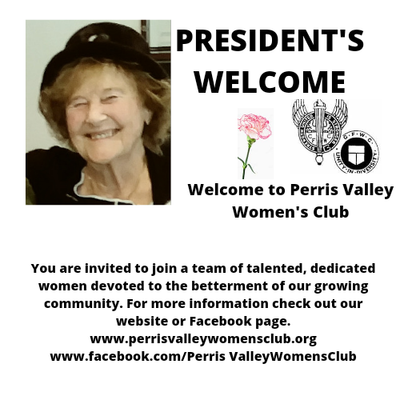 PERRIS VALLEY WOMEN'S CLUB is a service club. Our purpose is to INFORM, EDUCATE and SELF IMPROVE through community involvement and civic welfare.
We are members of the California Federation of Women's Clubs
and the General Federation of Women's Clubs.
We meet once a month on the first Monday (except holidays)
BOARD-12:30 to 1 GENERAL-1 to 2
Please see map below for location
Our main project is our SENIOR HIGH SCHOLORSHIP FUND which is supported by our CRAZY AUCTION. Other programs we've supported
ARTHRITIS FOUNDATION
MAKE A WISH
MARCH OF DIMES
PENNY PINES
CITY OF HOPE
OPERATION SMILES
OPERATION EMPTY CAGES
We also support Unwed Mothers Home for teen girls. We distribute food baskets to needy families during the holidays.